This shop has been compensated by Collective Bias, Inc. and its advertiser, MARS Incorporated. All opinions are mine alone. #BOOItForward #CollectiveBias
Have you ever been BOO'd? This may not mean what you think it does. BOOing is a new Halloween tradition and it's giving the phrase a whole new meaning – one of kindness, love, and gift giving. Plus, it's all about having fun – which we absolutely LOVE! Read on to see how you can join this movement and have a little fun while getting into the Halloween spirit with your family.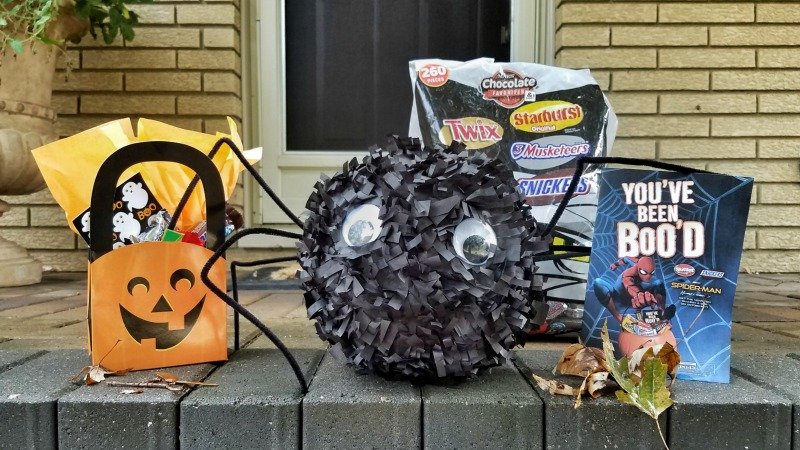 Interested in finding the MARS® Variety bag for your BOO Kit? Hover over the photo to click through to Walmart.com and buy it!
Let's do Some Friendly Neighborhood BOO'ing
Do you know of someone who could use a little bit of cheering up? Maybe you have someone in mind who is always selflessly giving back to others or a local business who always goes above and beyond. Maybe it's a college student who would love to know they are being thought of while they are away at school.
BOOing is a movement that uses the fun idea of giving candy at Halloween and takes it one step further. Instead of waiting for people to Trick or Treat at your door, BOOing someone is about taking the initiative to send a candy-filled basket unexpectedly to their door.
The Spider Piñata
When I decided to put together a BOO kit for a local family that I appreciate, I thought about the different ways I could make my BOO kit special for them. I thought about the unique ways my own family celebrates Halloween and which of these aspects are enjoyed the most.
One unique thing my family does every year instead of passing out candy is we fill several pinatas and have a party with friends and family to break them open.
I decided that this very simple idea, one that brings so much joy to my family, could easily be passed on. So I got to work making my homemade spider pinata for this fun BOO kit idea.
How to Create a Spooky Spider Piñata | 5 Easy Steps
Creating a homemade spider pinata is not hard but it will take a little bit of time. Be sure to give yourself at least 24 hours before you want to deliver your BOO kit from when you start to put it together.
Supplies
Balloons
Newspaper
White kids craft glue
Googly eyes
Black pipe cleaners
American Greetings black tissue paper
MARS® Halloween 'Mummy' Chocolate/Sugar Fun Size Mixed Bag (260 pieces)
5 Steps to Crafting a Spider Pinata BOO Kit
1 . Prepare a workspace. 
Before I started, I covered my counter in a craft paper to keep from making a mess on it.
Next, I grabbed a small bowl to set my pinata in while I worked on it and blew up a balloon to my desired size. Remember, the larger you make your balloon, the longer it will take to create.
During this time, I also cut my newspaper into strips about 1″ in width and 12″ in length.
To create the "paste" I mixed in a small bowl half white kids craft glue with half water. Stirring well until combined.
2. Begin crafting the pinata. 
Start with the balloon closure on top and one by one dip the strips of newspaper into the paste. I removed any excess paste back into the bowl either by running my fingers down the strip or by using a paper straw to wipe off the extra.
The paste covered newspaper strips are then laid onto the balloon and any air bubbles are smoothed out.
Important: Just remember to be sure to leave an opening around the top of the balloon as a fill point for the candy!
Once the first layer of the newspaper has been added to the balloon, allow it to dry completely. This will take a few hours.
After it has dried, repeat these first steps again to create a sturdier shell.
3. Decorate the pinata. 
Now that the two layers of paper mache have been added to the balloon and it has completely dried, it's time to pop the balloon and decorate the pinata!
Once again, I prepared my workspace by cutting the black tissue paper into 1″ wide strips. Then, I carefully cut small fringe along the tissue paper strips. You will need several strips to cover the pinata.
Beginning at the top by the fill hole, I worked my way around the pinata gluing the fringe to the ball. The fringe should all face the same way and each new strip begins where the last one left off.
After the entire pinata is covered in black tissue paper fringe, it is time to add the eyes by gluing them into place. Also, poke the pipe cleaners through the pinata to create the legs.
4. Fill the pinata. 
The final step is to fill the pinata with MARS® Candy and other small goodies – we added American Greetings spooky sticker sheets to ours.
FInally, cover the hole with more tissue paper so nothing falls out.
5. Deliver the BOO kit.
Now it's time to deliver the pinata to an unsuspecting friend with this free printable BOO card.
BOO It Forward with Walmart
Creating a Spooky Spider BOO kit is easy because all of the supplies can be found at your local Walmart store! You can also get the Spider-Man Homecoming DVD & Blu-Ray on October 17th at Walmart that matches the free printable BOO card!
Do you have someone in mind that you'd like to BOO but they don't live near you? That's ok! Walmart has premade kits available on their website so you can BOO someone no matter where they live!
Are you ready to BOO It Foward with me?
Who do you know that could use a good BOOing? Have you ever been BOO'd yourself? How did it make you feel? The comments are always open.