Disclosure: Thank you Sony Pictures Animations for providing us with a copy of this Hotel Transylvania 3 for review. 
Ready for a really good laugh? How about a bit of family time spent pulling slimy guts from a ripe Halloween pumpkin to go with it? If you're looking for a way to enjoy a little bit of "fear-free" fun with your family this Halloween, the Hotel Transylvania 3 Blu-ray™ Combo Pack and DVD were both released on October 9th and we've got some free pumpkin carving stencils to pair along with 'em!
The Movie: Hotel Transylvania 3
Having loved the first two installments of the Hotel Transylvania series, we simply could not wait for the threequel to be released. As soon as it reached our hands it was in the Blu-ray player, curtains drawn and popcorn ready for passing. Ok, so it may have been the middle of the afternoon when we got it but I was just as excited about this one as the kids were! Everything else could wait – it was movie time!
If you've ever seen any of the Hotel Transylvania movies than you might understand our excitement for this newest release. The films in this series are simply hilarious while also being family friendly. Hotel Transylvania 3 was no different. In fact, I think it is my favorite so far of the three! What makes it so great? Well, to start, I haven't found myself laughing this hard with a movie in quite a while! Just wait until you see the airplane scene -it's funny because it is so true! Although to go along with this scene, the entire film had us rolling with laughter as Dracula and his family set sail on a cruise vacation where they encounter many familiar scenarios and a chance at new love.
Have You Seen This All-Star Cast? 
Another reason Hotel Transylvania 3 can now be included in my "mom-approved" weekly rotation of movies is that I simply adore the star cast. Many of the voices we've come to love are back, plus there are a few new additions! The cast includes many well-known names such as Adam Sandler, Andy Samberg, Selena Gomez, Kevin James, David Spade, Steve Buscemi, Keegan Michael Key, Molly Shannon, Fran Drescher, Kathryn Hahn, Jim Gaffigan, and Mel Brooks.
Party Planning Bonus Materials
Finally, this movie won its way into our hearts because of the fun bonus materials included in the Blu-ray, DVD, and Digital Monster Party Edition. From sing-alongs to two bonus short films and a Mavis makeover tutorial, this bonus material has everything you'd need to plan your own monster party at home! We've included a sneak peek of the bonus materials below but be sure to check out the Transylvania 3 website to see what else is included!
Add Pumpkin Carving to the Party with Free Character Stencils
To get the party started with the new Transylvania 3 release, we've included some free character pumpkin carving stencils for download. Looks like I know what we're doing this weekend!
Simply click on the below image to instantly download all three of the Hotel Transylvania 3 character stencils.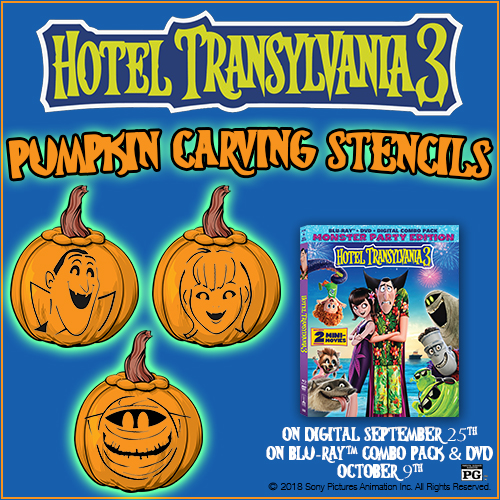 Are you as excited about the new Hotel Transylvania release as I am? Tell me about it in the comments.