Thank you, Catholic Central, for sending us a fun gift box of games to help us create family fun around the holidays. Also, a big shout out for offering to supply a box to one of our readers for today's Christmas giveaway! Read on to see how you can enter! #CatholicCentral #ChristmasTraditions
Christmas? Already?
Here we are. Days from the Christmas holiday. Am I ready? Not quite. I feel like there are so many things I have yet to do! The house needs to be cleaned for the company arriving on Monday, the groceries all need to be bought, the presents need to be wrapped. . . what else am I forgetting? I'm sure there has to be more. There is always more. . .
With everything that needs to be done for the upcoming holidays, I am finding myself lost in a sea of responsibilities. Responsibilities that are honestly making me feel slightly less than holiday cheerful (Don't hate me, that's not something very easy to admit).
So what am I missing this year? I'll tell you because I'm sure I already know. This year, as I am also working a full-time job and things seem to be piling up on me faster than before, having time for our Christmas traditions has been tough. Frankly, we are only days away from Christmas and we haven't baked cookies or done any of those typical holiday moments yet!
But you know what? I am less than perfect and I can't always have everything done and magical moments planned for my kids. Sorry, Pinterest! But, you know what? Holiday traditions don't have to be perfect. They don't have to be sparkly and magical. As sappy as it sounds, it's about being together.
So if you're like me and still want to squeeze in some family fun before the holidays are over but really haven't had any time to create plans, we've included a list of 8+ ideas that can bring everyone together. Which ones will you rock out with this year? Share them with us on social media using the hashtags #ChristmasTraditions. We simply cannot wait to see what fun you create!
8+ Easy Ideas for Christmas Family Fun
Thanks to Catholic Central, we have this easy to use idea sheet full of ways to create family fun for Christmas – plus, some very interesting facts about why some Christmas traditions are the way they are. Yay, I'm a sponge for historical knowledge!! So here you go – simply click on the image to download the free pdf. and who knows, maybe some of these will become family traditions that you'll want to re-create again for years to come.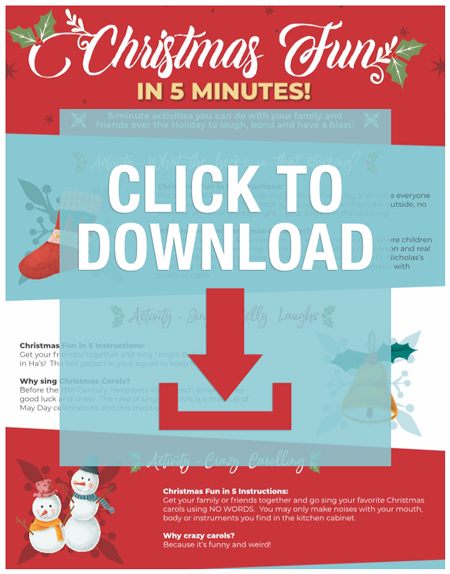 Enter to Win a Christmas Classic Game Night Kit
Family game nights just so happen to be one of our favorite holiday break traditions! And thanks (again) to Catholic Central, we have a classic game night kit to give away that includes an assortment of four different classic games – which will be chosen by random. The list includes Monopoly, Sorry, Connect 4, UNO, Pictionary, Twister, Operation, Apples to Apples, Life, Simon, Battleship, and more!
Ready to keep the fun going? Enter below and good luck! Giveaway open to 18+/USA only.